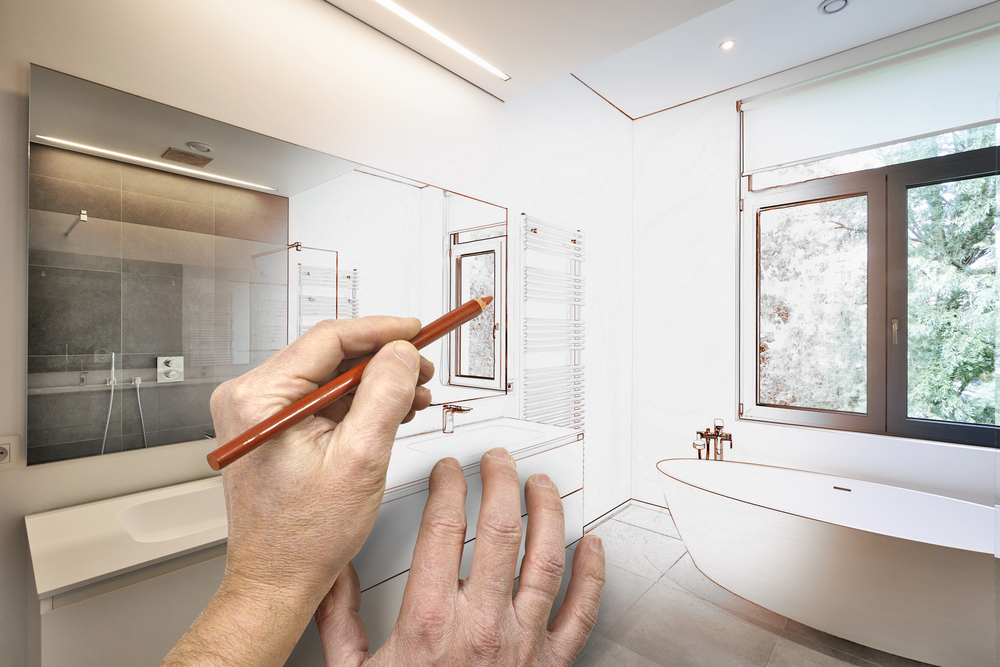 A full bathroom renovation is a big project that can improve your home's value when done correctly.

It's imperative to know your budget and needs before beginning the design process to ensure you're truly happy with the final results.

Make sure that your renovation suits your needs by buying the best appliances you can afford on your budget and fully exploring available style options with a professional designer.
The Pros' Guide to Renovating Your Bathroom
Upgrading and updating your home's bathroom is one of the best ways to revitalize the entire house, boost your home's overall value, and refresh the way you experience your home during your daily routine each and every day. That being said, a full bathroom renovation certainly isn't a walk in the park. It's going to cost you time, money, and most of all, energy to get the results you want during a remodel project. However, by taking the right steps to ensure your investments are truly worthwhile when it comes to supporting your unique needs and your family's lifestyle, you can make the updating process worth it in the end. Ensure you're getting the best results possible for your comfort, your home, and your budget by following these bathroom renovation tips.
Learn What You Really Need Before Getting Started
It's easy to get on social media or home design websites and fall in love with the bathrooms pictured there. However, before you can get sucked into the excitement of these crafted and filtered spaces, you need to take the time to learn what you'll really require from your remodel. The best way to do this is by asking yourself (and answering) a few key questions:
How much money can I spend on this remodel?

What is my daily routine?

Do I need a large amount of storage, or can I deal with less storage space?

How many people in my home will be using the bathroom space?

What do I dislike most about my existing space?
These details will help you lay the groundwork for your new design by centering your renovations on functional changes above all else. Once you can ensure that your new space will function properly within your daily routine and your family's dynamic, you can worry about details such as tile color, counter materials, and other stylistic decisions. You should be able to answer these questions early on in the process so you can discuss them with your designer before the project gets underway.
Handle the Shower vs. Tub Debate
While bathtubs have long been a key part of bathrooms in homes in the Salt Lake City, UT, area, homeowners are now choosing to replace old tubs with bigger, brighter showers more and more often. A larger, updated shower adds more luxury to a space and has become especially popular in master bathrooms in recent years. If it comes down to choosing between a big tub or a big shower, it's usually advisable to choose the shower.
However, the debate between tub and shower in your own bathroom should depend entirely on the questions you've answered earlier. Does part of your daily routine involve bathing a child in your existing tub? Then you may not want to ditch the tub entirely. If space allows it, you could go for a large, luxurious soaking tub and a shower. However, it's often safer in smaller bathroom spaces to stick with a simple shower and tub combo. Though this option isn't the most stylish on the list by most standards, it offers a dual functionality that's a necessity for some homes. Having a beautiful bathroom is good, but having one that serves your family's needs should be the end goal.
Build a Memorable Shower
If you're planning on installing a shower in your bathroom, the type of enclosure you choose for it will have huge implications for your bathroom's overall style and appeal. Because showers are often the biggest component of any bathroom, they often serve as a focal point for the whole room. For this reason, it's well worth reserving a good portion of your budget for building a shower that's beautiful and memorable. Choosing the right enclosure is a must. Some options you'll have to choose from include:
Glass doors: a traditional option that can help a small shower feel more spacious. Choosing glass doors with a pattern and upgraded, stylish hardware can help this enclosure feel more modern.

Shower curtains: these are the best option for shower/tub combos. Unlike glass doors, it's easy to change your curtain on a whim if your personal style happens to change over the years.

No enclosure: if you're building a modern bathroom with a focus on openness, you can opt not to have a shower enclosure at all. If you choose this route, you'll need to have a central drain installed and may be limited on which materials you choose for your walls, flooring, and other additions because they'll need to be waterproof.
Furthermore, you can spring for a few tech upgrades to make your bathroom look and feel next-level. Invest in luxurious showerheads or in thermostatic shower valves to improve both looks and function. Each of these options has its pros and cons, and each has an almost endless list of styles to choose from. Discuss your preferences with your designer to find the right fit for your renovation.
Choose Your Materials Wisely
The materials you choose for remodeling the bath, shower, and other parts of your bathroom can make a huge difference in the final cost of your project. When selecting the materials for your bathroom, you'll choose from options such as:
Acrylic

Stone

Quartz

Granite

Piedrafina

Porcelain/ceramic tile

Manufactured marble
Each of these materials has its own unique price points. If you're working on a tight budget, acrylic, stone, and tile are excellent options for your bathroom. Quartz and Piedrafina offer a nice middle-of-the-road price point with a touch of luxury. Manufactured marble and granite are among the most luxurious options, and their cost is typically reflective of this. Keep your budget in mind when selecting your materials to ensure you can keep the project's price within your expectations.
Don't Overlook Storage
In your determination to fit in the perfect shower and tub, don't overlook your need for storage. If you've decided you need a lot of storage when asking your initial questions, be sure that your designs reflect this. Storage in the shower in the form of a ledge or niche should always be included as a bare minimum. Vanity or cabinet storage is an excellent and common way to add storage as well. Those in need of extra storage space can also consider installing shelves and cabinets along the walls to add storage without wasting already limited floor space.
Small Upgrades Go a Long Way
Renovating your bathroom isn't all about the big changes. You can breathe new life into your bathroom by adding a few new bells and whistles that don't interfere with your limited space and that are typically quite budget-friendly. Some of the small upgrades you should consider include:
Smart shower controls

Installing flooring with high slip-resistance

Installing outlets inside of vanity drawers

Changing out drawer, light plate, and plumbing hardware

Adding heated floors
Some of these updates are more budget-intensive than others, but each adds a touch of much-needed luxury to your bathroom.
Build Your Perfect Bathroom Today
If you're ready for a brand new bathroom experience but need help finding the right place to start, it's time to contact Bath Crest Home Solutions. Our professionals have over 39 years of experience designing and building custom bathrooms throughout the Salt Lake City metro area and offer nothing but the best materials and quality on each and every job. Start building your dream bathroom today by meeting with one of our designers and discussing your plans.
Image Credit: CapturePB/Shutterstock