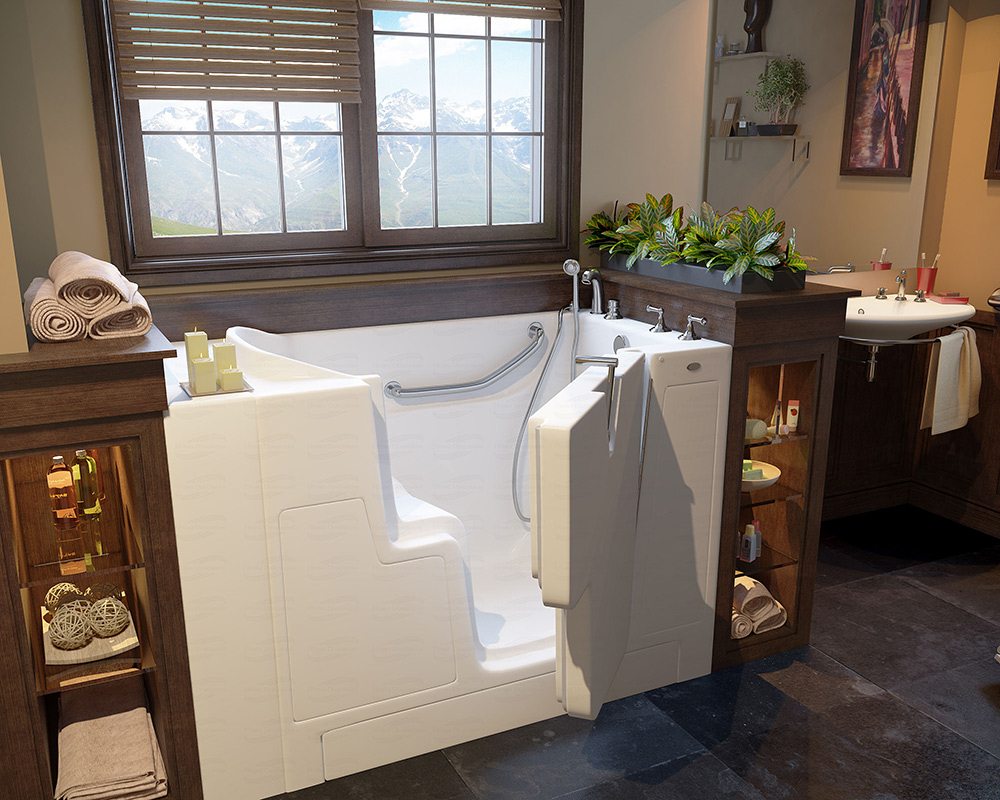 Bathcrest Installs Walk In Tubs in Utah Cities Like Sandy, Salt Lake City, South Jordan, and More
According to a journal from the American Medical Association, hydrotherapy (walk in tubs) is very useful in the management of disease, both acute and chronic, as well as various nerve disorders. Therapeutic baths have been used since the ancient Egyptians, Greeks, and Romans and are a fundamental part of many traditional medicines. Hydrotherapy walk-in tubs from Bathcrest in Salt Lake City combine the healing properties of water with modern engineering to give you favorable health benefits. These benefits include reduced inflammation, faster healing of injured tissues, increased blood circulation, and a stronger immune system.
Walk In Tubs Are Safe
Surprisingly to many, the bathroom is the most dangerous area of your home. Of all slip-and-fall accidents that occur in the home, the majority happen in the bathroom. As we age, we notice increasing limitations in our mobility, balance, and stability. Also, our bones become more brittle. A fall in our senior years is more critical, and it can take longer for our ailments and injuries to heal. Remodeling your bathroom with safety as your primary concern is an investment in your health, well-being, and future independence. Our walk-in shower installation services can meet the need to provide a safe bathing environment.
And Accessible
Walk-in showers are more than an easier entry into the shower or tub itself. Walk-in tub installation comes with a wide range of other accessibility options designed to keep those with mobility complications safe while entering and leaving the tub, but also while bathing. These accessibility and safety measures may include:
Built-in seating

Swinging easy-access doors (for showers or tub-shower combinations)

ADA-approved grab bars for better standing support

Handheld showerheads for easier, safer access
Each of these additions is designed to create the safest possible shower or tub experience. You can pick and choose which measures you think are right for your bathroom remodel or get help from professionals in assessing risk and how best to mitigate it while you're taking care of your hygiene needs. Bath Crest Home Solutions is here to help you throughout the entire process, to ensure you or your loved one stay safe and sound while enjoying a relaxing, healing bath experience.
Walk In Tubs Add A Touch of Luxury
The functionality of your bathroom space should be your top priority when it comes to safely aging in place or creating a space for a loved one with impaired mobility. However, that doesn't always have to come at the cost of your bathroom's visual appeal. At Bath Crest Home Solutions, we specialize in bringing together function and aesthetic charm to bring you the best of both worlds with every renovation. When renovating your bathroom space, we'll choose wall surrounds that complement your new walk-in tub, as well as a number of styles, shapes, and finishes for additional items like grab bars or built-in seating. You deserve a bathroom that's safe and functional, but it's always pleasant to have a touch of luxury as well.
Hydrotherapy Benefits
Hydrotherapy has been around for hundreds upon hundreds of years in cultures around the globe. Its ability to help blood circulate and muscles relax has made it the backbone of many physical therapy plans, particularly for those dealing with impaired mobility. When an individual lives with limited mobility, muscles begin to atrophy because they aren't being used. When in warm water, those with limited mobility are often able to better extend and use these muscles, promoting blood flow and keeping muscle tissue alive and functional. In turn, this leads to a wide range of walk-in tub benefits, including:
PAIN RELIEF – The warm water improves circulation, which delivers oxygen and vital nutrients to muscle tissues. Immersion in the water takes 90% of the weight off limbs and joints, and the massaging benefits help injured, tense, or sore areas.

RELIEF FOR COMMON AILMENTS – Hydrotherapy can assist in providing relief for Arthritis, Insomnia, Asthma, Chest Congestion, Anxiety, Stress, Balance Disorders, Headaches, High Blood Pressure, Lower Back Pain, Stomach Problems, Joint Pain, Sciatica, Rheumatism, and Muscle and Nerve Pain
PROMOTE MUSCLE STRENGTH – By doing a few key stretches in warm water, hydrotherapy can help to re-educate unused muscles and promote normal movement out of the water, which in turn promotes better balance and walking in some individuals.

JOINT SOOTHING – The heat from warm water helps to soothe stiff, painful joints. Paired with stretching properly during hydrotherapy sessions, the warm water can help improve joint flexibility over time.
Hydrotherapy is most commonly practiced in larger bodies of water, such as a pool. While the full range of exercise needed to promote aerobic fitness or enhanced flexibility may not be available in a tub, those willing to do a few stretches while submerged in the warm water will still benefit from better circulation and muscle usage. Pain relief and the promotion of healing can be obtained from simply hydrotherapy in a home's walk-in tub.
Walk In Tubs With Jets
Some walk-in tubs in Utah may have the addition of strategically placed jets. These jets add a luxurious spa-like experience to any bathtime routine, but they offer much more than just that. The jets are positioned to offer a massaging effect to important muscles throughout your body while submerged in the tub. This "massage" encourages blood flow to these areas, which in turn helps to promote healing of injuries, reduce inflammation and pain and even loosen up stiff joints over time. Additionally, the healing effects of water jets help to reduce stress, leaving you feeling great both physically and mentally by the time your bath ends. The inclusion of jets is just one of the excellent optional additions those working with the professionals at Bath Crest Home Solutions can opt to enjoy after their installation is complete.
Options for Walk in Tubs
When you choose to invest in walk in tubs in Utah from Bath Crest Home Solutions, you're investing in a bathing experience that truly fits your unique needs. Each of our walk-in tub options comes with a few options to choose from, allowing you to customize your new tub as you see fit. These options include additions like:
Aromatherapy: Aromatherapy is used to stimulate and reinforce our body's "natural defenses" by inducing a state of relaxation and well-being. Only a little drop of fragrance is needed to relax, rejuvenate, and reinvigorate both body and mind.
Chromatherapy: Chromatherapy is used to balance a person's physical, spiritual, mental, and emotional energy – providing a relaxed bathing experience.

UV Sterilizer: Ultraviolet light (UV) is commonly used in hospitals, food processing plants, and laboratories to kill bacteria, algae, molds, yeasts, and other microorganisms. Our installation services on Salt Lake City walk in tubs can accommodate all of these options.
From helping your mind, body, and spirit relax to ensuring cleaning and sterilizing your tub is as easy as getting into it, our professionals are here to accommodate your needs through the installation process. Contact us to learn more about these options and how they improve your bathing experience.
Learn More About Installing Walk In Tubs in Utah
Whether you're looking to install a simple set of grab bars on your existing tub or you're interested in making the full upgrade to a walk-in tub with easy-access swinging doors, a UV sterilizer, and more, Bathcrest is here to help. Contact us today to learn more about how we renovate your bathroom to help you age in place, learn more about our optional walk-in tub add-ons, or schedule a consultation to install a walk-in tub or shower of your own. Our professionals are here with extensive experience and know-how to get the job done right the first time so you can rest easy in your own home. If you're looking to know who installs walk in bathtubs in Utah, Bathcrest is one of the best around!