Tub To Shower Conversion In Salt Lake City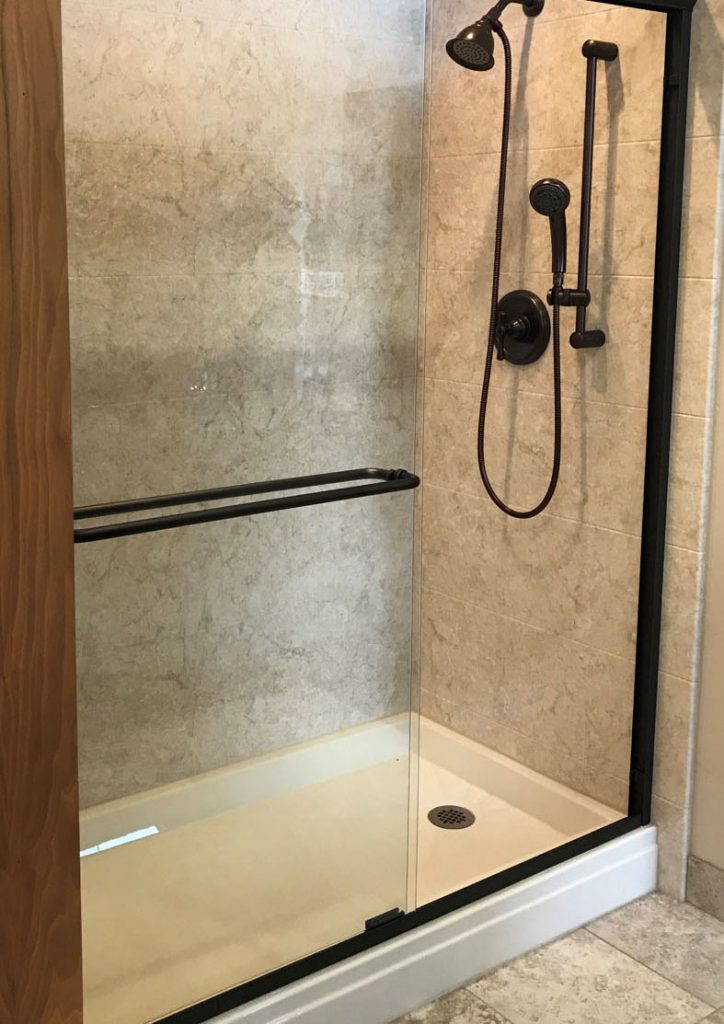 Tub to Shower Conversion
Do you have an old bath system that you never want to use? Bath Crest Home Solutions understand your feelings, and you are not alone. Showering may be your preferred method to bathe. You can change your tub to a shower with any of our preferred products, whether it be in acrylic or other premium solid surface options. Transform your old tub into a lovely shower that meets your dreams. This is a simple approach to get a bigger shower without the cost and burden of an extensive bathroom remodel.
For those in their senior years, a shower rather than a tub is a safer method of bathing. A tub-to-shower conversion bath remodel restores security and replaces the difficulty of using the tub. The shower options include low-threshold entry, grab bars, slip-resistant bottoms, built-in seating, and hand-held showering options.
Why Convert Your Tub Into a Shower?
While some families may still find ample use for their old tub, there are plenty of reasons for most households to ditch the tub in favor of a brand new shower. While the list of reasons changes depending on the needs of the family and bathroom in question, there are five that seem to be more prevalent than others:
Better accessibility

More aesthetically pleasing

Showers take up less space

Showers are often easier to clean

More customization options than tubs
Showers are more stylish, more accessible, more hygienic, and often just an all-around better option for the modern bathroom and family in most cases. Regardless of your reasons for making the change, you can rest assured that Bath Crest Home Solutions is here to ensure your tub-to-shower conversion goes as smoothly as possible and you get the results you've been dreaming of.
How We Do It
When you move forward with your tub-to-shower conversion, our experienced technicians in Salt Lake City will start by purging your old tub from your bathroom. Existing plumbing is reviewed and updated where needed. The new shower base will be installed with your choice of a beautiful wall system, colors, and accessories that match your personal style and décor preferences.
Every step of the way, you'll have peace of mind knowing that your bathroom is in the hands of tried and true professionals. For over 40 years, the pros at Bath Crest Home Solutions have been providing the families of Salt Lake City and surrounding communities with a full bathroom remodel, from tile to ceiling and plumbing and beyond. We adhere to industry standards throughout the entire process to ensure the job gets done right from beginning to end, and you're always beyond satisfied with your bathroom updates.
Consider Your Options
When it comes to remodeling a bathroom, the list of ways to make the room your own is truly endless. However, when it comes to converting an old bathtub into a shower, you'll have two basic options to build on: fully removing and replacing the tub or reconfiguring your plumbing to create a shower and bathtub combo. Each of these has its own unique benefits to consider before deciding which route is the correct one to take for your bathroom makeover.
Tear Out the Old Tub
The truth is, many bathrooms simply don't have enough space for both a shower and a bathtub. If you happen to have a small bathroom space and you're looking to install a large, luxurious shower with all the bells and whistles, then tearing out the tub entirely and changing it to tub-to-shower might be your best bet. Generally, the space left behind after removing a full-sized tub will leave behind more than enough room to install a new shower. However, you'll need to tile the area and create a "curb" to keep the water from running out of the shower.
Replacing a tub with a shower comes with a handful of crucial details to consider, though. First, you'll need to consider how shower doors will function in your renovated space if you intend to have shower doors at all. A door that swings in and out on hinges can be more stylish but will require proper clearance in order to open without colliding with counters, toilets, or other appliances. Furthermore, you may want to install special shower features, such as heated floors or upgraded fixtures. Installing a walk-in shower is also an option if your focus is on accessibility and ease of maintenance in the coming years.
To ensure that every detail is accounted for and that your new shower will work seamlessly alongside your existing bathroom, always work with a team of professionals when removing and replacing a bathtub of any shape or size. The pros here at Bath Crest Home Solutions have tackled tub replacements of all shapes and sizes hundreds of times over the years and can handle your transition with absolute ease.
Create a Shower and Tub Combo
In some situations, completely removing a tub may not be practical or reliable. For families with young children, tubs are crucial aspects of bath time routines. Furthermore, removing a tub entirely may also impact your home's resale value. However, that doesn't mean you need to completely give up on your dream of having a beautiful shower in your bathroom space. You can choose to compromise by reconfiguring your bathroom's plumbing to make a beautiful shower/tub combination.
This process is generally less invasive than fully replacing a tub, and because it allows you to keep your existing tub, the project is also usually cheaper when all is said and done. The price point could change, though, depending on the state of your bathroom's plumbing. In order to retrofit your plumbing, a professional will need to open the wall to inspect your existing plumbing and ensure it's up to code. If it's not up to code, you may need additional plumbing work to finish the project. After your plumbing is confirmed to be in fit condition, the space will need to be waterproofed with tile or another water-resistant material, windows will need to be covered or re-worked, and you'll need to decide on what sort of enclosure you want.
While this bathtub to shower conversion is usually cheaper and straightforward, you'll still need a team of professionals on your side to ensure each and every aspect of the job is handled correctly and that all work adheres to modern codes. Bath Crest Home Solutions is here to have your back when it comes to revamping your existing tub with an added shower.
Start Your Tub Transformation Today
If you're ready to get your bathroom redesign underway and start enjoying the shower of your dreams as soon as possible, contact Bath Crest Home Solutions today. With a reputation of quality and trustworthiness and over four decades of experience in the home renovation industry, we have the tools and know-how to make any bathroom transformation happen, no matter how drastic. Consult with our professional designers today to plan your dream shower and how it will fit into your existing bathroom layout.