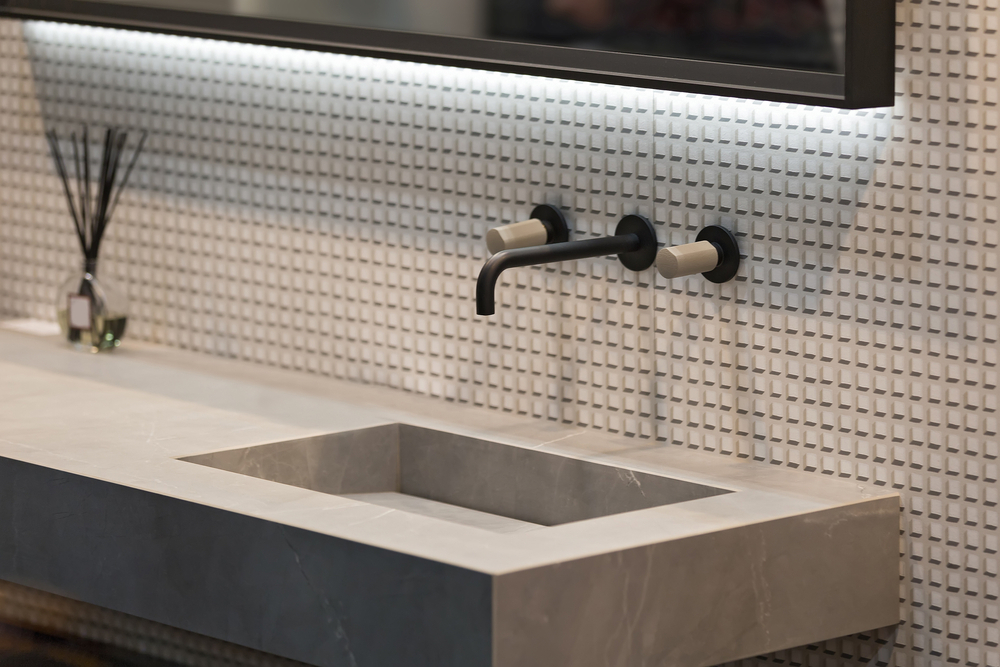 Bathroom Remodeling Materials
Every detail is essential when it comes to bath remodeling, but perhaps none are quite as important as the bathroom materials you choose to get the job done. Each material comes with its own unique aesthetic appeal and offers its own list of benefits when it comes to functionality and future performance. At Bath Crest Home Solutions, we're proud to offer a wide selection of bath remodeling materials that make any remodel beautiful, functional, and affordable. We are here to give you all the information you could need on each of them so you can make the best decision for your upcoming bath remodel in Utah.
Acrylic
Acrylic countertops are an excellent investment for those looking to remodel their bathroom on a budget. These solid surface counters are expected to last well over ten years with proper care and come in a wide range of designs that can often mimic more expensive materials in both color and texture. Acrylic is one of our most affordable options and is perfect for nearly any remodel budget.
Stone
Natural stone, such as soapstone, provides any bathroom with an elegant appeal. Stone is generally dark in color with lighter veins running throughout, and costs less than granite, quartz, or similar materials. Though it's hard, stone can be scratched but may be repaired through sanding. It requires regular treatments with olive oil to keep up its pristine shine and may continue to darken over the years.
Quartz
Quartz is the most popular alternative to expensive granite and marble countertops and has a long list of benefits to offer any bathroom setup.. First, the material is harder than granite, making it virtually indestructible. Second, unlike granite, the surface of quartz counters is non-porous, discouraging bacteria's growth and the appearance of stains. Finally, because quartz is engineered, it's easier to find the perfect color for any design scheme you have in mind.
Granite
Often the most sought-after material for kitchen and bathroom countertops alike, granite has a classic charm that's hard to beat. The natural-looking stone keeps bathrooms looking inviting, while the hard surface ensures a pristine appearance over the years. They increase home value and add a touch of luxury to any space, but granite materials are by far some of the most expensive on the market.
Piedrafina
Piedrafina is a type of recycled stone that's perfect for the homeowner looking for an eco-conscious way to build their dream bathroom. Piedrafina often made from discarded stone, such as marble, contain 95 percent natural stone mixed with pigments and polyester resin binders to get you the perfect look. This material requires a bit of maintenance to keep in prime condition, but it is impossible to beat if you want to upgrade your bathroom in the greenest way possible.
Porcelain and Ceramic Tile
Porcelain and ceramic tile counters are among the top recommended materials for a bathroom remodel due to their astounding affordability and ease of maintenance. Unless you choose to invest in custom-designed tiles, this material is the most affordable available. Bright tiles can add a splash of intrigue to any design and help to brighten up space while saving homeowners' budgets. Furthermore, thanks to this material's return to popularity, there are now more titles than ever before, to choose from. Contact Bath Crest home Solutions for a title installation estimate today. 
Manufactured Marble
If elegance is what you seek, then marble is impossible to beat. Fortunately, manufactured marble is cheaper than its all-natural alternative and still delivers that same appeal with a light stone shot through with beautiful darker veins. They're generally still more expensive than even granite countertops and are more prone to damage and staining than other stone materials. However, they achieve a light color and appeal that few other stones could ever hope to match.
Contact Us for Bath Remodeling Materials and Utah Bath Remodels
Our team of trained specialists is here to answer any questions you might have about bathroom remodeling supplies or bath remodeling in Utah. Contact Bath Crest Home Solutions for all of your bathroom material needs and ensure you're always getting nothing but the best in terms of quality.
Image Credit: Olga Prava/Shutterstock