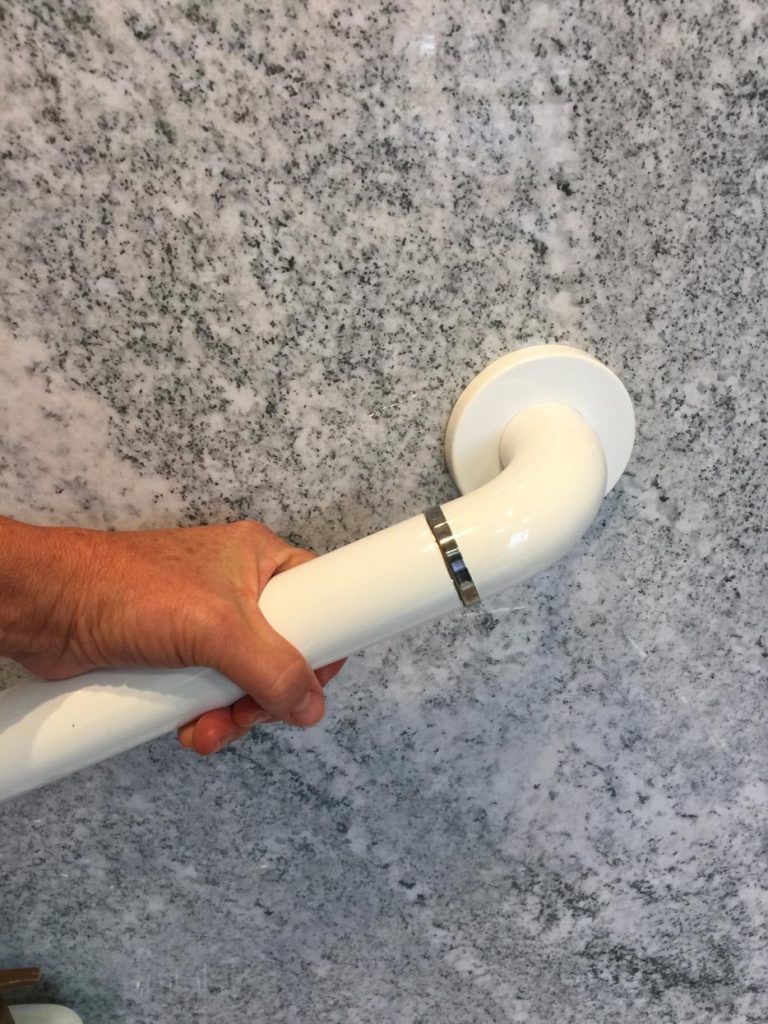 Shower Standing Handle, and Bathroom Grab Bar Installation
For many, installing bathroom grab bars is an ideal way to ensure a bathroom is as safe and functional as it is appealing to the eye, and Bath Crest Home Solutions is here to make the process a simple one. We install quick and easy bathroom grab bars in homes throughout Salt Lake City, UT, and the surrounding area so you can get the confidence and support you need without a hassle. Our wide selection of bathroom grab bars also means you get that support without sacrificing the overall appearance of your dream bathroom.
Why Bathroom Grab Bars are Important
For many homeowners, grab bars are an upgrade that's easy to overlook compared to the many more significant and impressive options available during a bathroom remodel. However, these accessories are some of the most sound investments you can possibly make in terms of future-proofing your home. This is because, unlike many other upgrades that may be considered solely aesthetic, grab bars enhance the overall safety of your bathroom spaces, particularly for the elderly and those with mobility challenges.
The Leading Cause of Injury
Falls are the leading cause of serious injury and even accidental death in people over the age of 65. Many of these falls occur within the bathrooms of their very own homes, where wet, uneven surfaces provide an extreme obstacle to many who struggle with mobility. Installing grab bars in showers and beside toilets is recommended to provide extra stability and reduce the likelihood of often critically dangerous falls occurring.
Even if you do not currently have an elderly person living in your home, installing grab bars is a good investment that allows you and your family members to age in place without worry. Furthermore, these additions make your home more accessible for guests or future buyers if you intend to sell your home one day. They're simple additions that could mean keeping those with limited mobility out of the hospital and may even add value to your home in some cases.
Choosing Bathroom Grab Bars
When choosing which grab bars are right for your bathroom space, you'll have a wide variety of options to make your selection from. These options range from thinner, less intrusive grab bars with many design elements to thick, utilitarian bars that provide unmatched performance. They come in a wide variety of both finishes and materials to ensure you're getting exactly what you want and need with your grab bar installation. While you can never go wrong with a classic stainless steel grab bar, Bath Crest Home Solutions has many other shapes, styles, and finishes to choose from. Our professionals are here to help you sort through the available options to find the right match for your existing bathroom or your bathroom plan in progress.
Grab Bar Installation Done Right
Because these accessories are meant to provide a safety measure within your bathroom, you need to ensure that your shower grab bar installation is done correctly. Several measures must be taken to ensure that your new grab bars are connected soundly to the shower walls and provide the promised support. These include:
Buying a grab bar set with the quality you need

Ensure at least two of the three anchoring screws reach at least one inch into solid wood

Take measures to prevent water damage
Installing Shower Standing Handle
While installing grab bars appears to be a simple project, a bit of know-how and some specialized tools are required to ensure the installation goes smoothly and that the product will perform as promised in the coming years after the project is complete. That's why it's always a good idea to trust the professionals with this type of bathroom renovation work. We take your safety seriously and know how to get the job done right so you can appreciate your newfound security and stability in your bathroom with complete confidence.
Why Choose Bath Crest Home Solutions for Bathroom Grab Bars?
From choosing your grab bars to the final steps of project completion, our expert team members are here to provide you with the best customer service and best results in the Salt Lake City area. We've been in the business of delivering superior work since 1979 and have trained our remodeling team over the years to handle any challenge that your renovation has to throw at them. We regularly work with a wide range of materials, appliances, and more and know how to create a bathroom space that is beautiful, safe, and convenient. We have the grab bar products you want and the know-how you need to get them installed correctly so you can enjoy every aspect of your bathroom while aging in place.
Contact Us
If you're considering installing grab bars in your home, contact Bath Crest Home Solutions to learn more about the products we offer and how they can enhance your existing design. Our professionals will guide you through the selection process and ensure you're getting both the performance and look you need to finish off your bathroom with this future-proofing touch. We'll get you the product you need and get it installed as soon as possible.