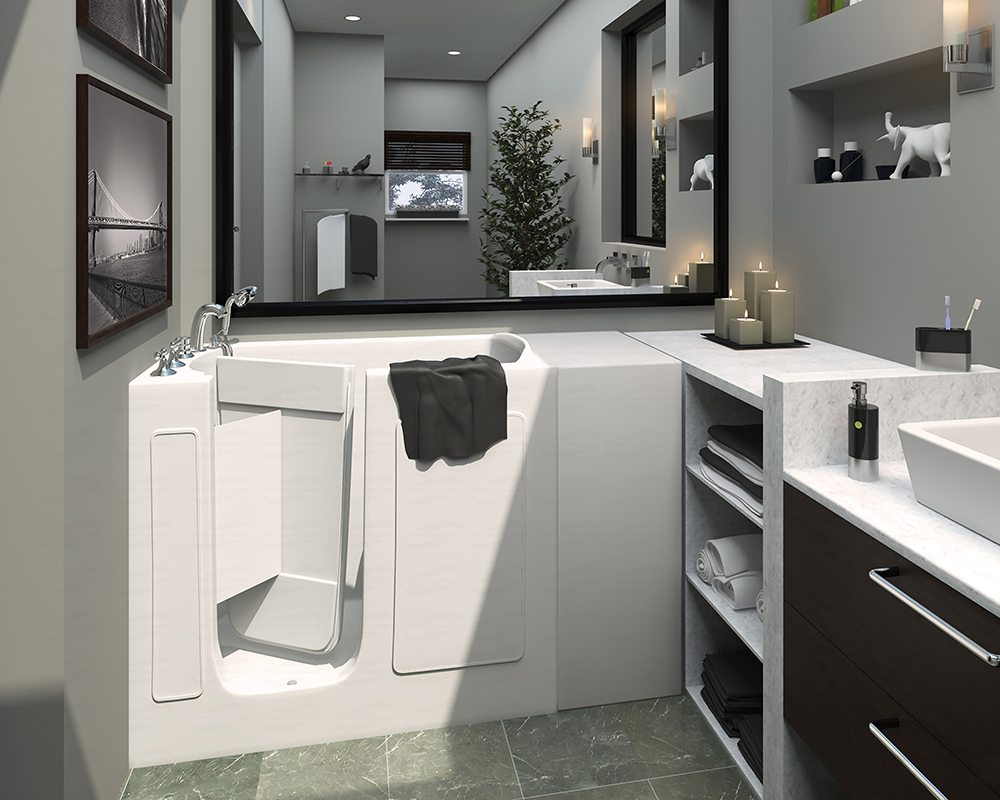 There's nothing better than sinking into a relaxing bubble bath after a long, hard day. Unfortunately, typical bathtubs can be limiting to seniors, and those with disabilities or chronic pain. Thankfully, walk-in bathtubs have become a popular solution to this frequent problem.
Walk-in bathtubs have a tall, watertight door attached to the side of the tub which makes it easy for seniors, or those with disabilities, to step inside while reducing the risk of falls or injury. The built-in seating adds additional comfort and support. Once inside, the water can fill and drain, then the user can easily step out. With additional features like massage jets and easy-to-grip door handles, this walk-in bathtub is a perfect solution for those who struggle to access a typical tub.
Walk-in bathtubs are easy to install in an existing tub space. With an easy bathroom remodel, you can have a walk-in bathtub in your home in just a few days. The installs are fairly inexpensive and studies have shown that the walk-in bathtub can actually be cost-effective.
The walk-in bathtub also features a re-circulation heater, which stabilizes the water temperature and helps pump hot water into the tub. This feature also enables "hydrotherapy", and it can be extremely beneficial to seniors and those suffering from arthritis. According to the Centers for Disease Control and Prevention, "hydrotherapy involves the use of water for soothing pains and treating certain medical conditions."
Another great design feature of the walk-in tub is its wheelchair accessibility. According to the Retirement Living Information Center, "Some models also include wide doors designed to allow those in wheelchairs to transfer easily to the tub seat without assistance."
For seniors, this tub can be an extremely useful tool to facilitate independent living. It can give seniors the freedom to bathe unassisted while making safety a top priority.
Overall, walk-in bathtubs can be a perfect solution to the bathtub accessibility issue so many people face. With top-notch features geared toward safety, as well as other high-end, luxurious amenities, such as the recirculation heather, enabling hydrotherapy, this walk-in bathtub would be an excellent addition to any home. Contact us for a quote today!