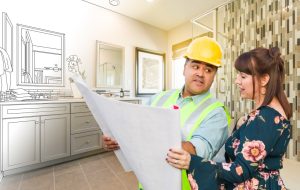 Bathroom remodeling is one of the most common renovation projects homeowners tackle. This is due to the general high return on investment. Subsequently, many people jump into the process by merely searching online for "bathroom remodelers near me." While this can certainly introduce you to a bathroom remodeling company that could exceed all your expectations, ask these five questions before hiring one.
Are You Bonded, Licensed, and Insured?
When you're trying to save on the cost of a renovation, choosing the contractor that offers the lowest price may seem like a good option. However, that low bid may come from not being bonded, licensed, and insured. They may also be less experienced. This is a bad combination.
If the contractor doesn't finish the work, makes a costly mistake, fails to pay his workers or commits several other potential errors, it could all fall on you. So, let this be the first filter you apply for all contractors you consider.
Can I See Some Bathroom Renovations You've Done?
Even if the company is brand new, they may claim to have years of personal experience. If they do, then they should have the portfolio to prove it. Ask all contractors for photos of completed projects they were in charge of. Some contractors may even be able to organize a site visit.
Since shady contractors can pull images from anywhere, be sure to back these up with references so you can confirm they were the ones who really did the work, if necessary.
Will You Work on My Home or Will Someone Else?
You may hire the best in the business, but their workers may be busy completing projects for their highest-paying clients. To ensure they don't miss out on the income from doing business with you, they subcontract some or all of the work to smaller companies.
These subcontractors may be less experienced. Always ask who will do the actual work and hold them to it. If it is not the contractor you hired initially, ask for information about the subcontractors.
What Contingencies Do You Have in Place?
Very few projects, if any, go exactly as planned. When renovating your home, the contractor could discover rot beneath your old tub. Black mold could appear behind a cheap prefab shower after ripping it out. The custom tiles you wanted for your wet room could be delayed. You need to know what back-up plans a contractor has in place to handle hiccups along the way.
Does the company work with multiple suppliers? Is there a guarantee within reason on the ETA? You need to know a crisis that arises will end as a crisis averted or one well-handled.
What Does the Contract Cover and Not Cover?
Not all contracts are created equally. Evaluate the document and ensure you understand it. If you need clarification, ask the contractor to explain it in simpler terms. You may also seek legal advice if necessary or if it makes economic sense. The larger the project and the budget, the more feasible it may be to speak with your attorney.
While looking over it on your own, ensure there is a clear start date and completion date. Finally, sometimes, it is best to ask a contractor what the document does not include instead of what it does.
Are you ready to tackle your bathroom remodeling project in Salt Lake City? Don't settle for that friend of a friend to renovate one of the top rooms in the home where a lot can go wrong. Instead, hire an industry leader with three decades of experience.
Bath Crest has been serving the city since 1979 and looks forward to serving you. Check out our online portfolio and contact Bath Crest Home Solutions today to get a free estimate.
Image Credit: Getty Images / Feverpitched