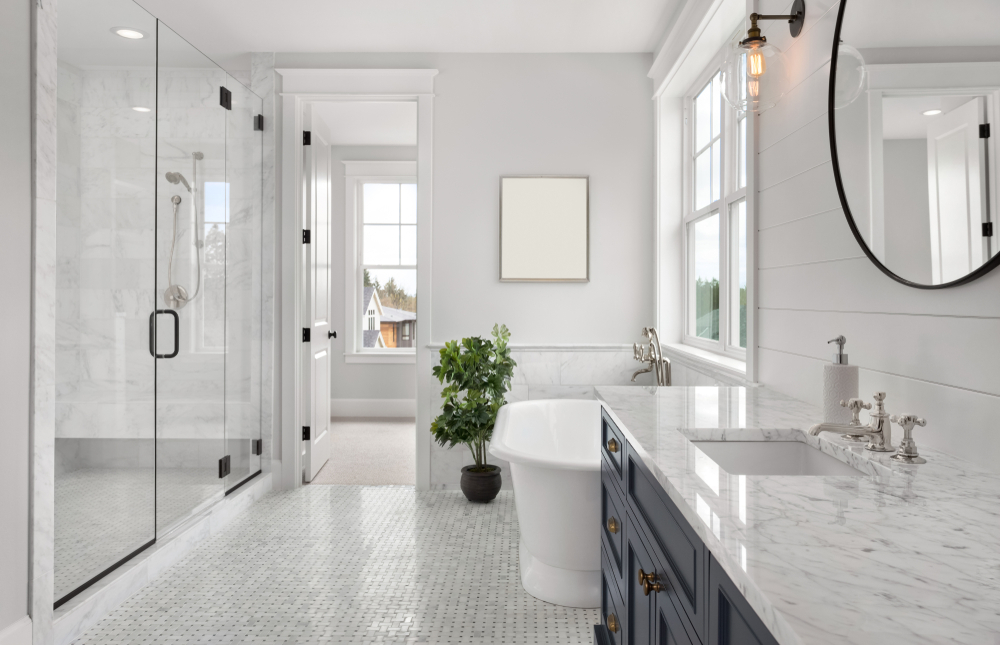 Building the perfect bathroom can be difficult when the bathroom space in question happens to be on the small side. Alas, this is exactly the case for many homes around the world. Unfortunately, small bathrooms often lead to cramped-feeling experiences for residents of a home and guests alike and generally lead to design choices that favor function over beauty. Luckily, though, that doesn't need to be the case. Learn how to make a bathroom look bigger, reflect your personal style, and offer as much form and function as possible to completely transform the space without blowing the bank on a full renovation.
Let Some Light In
Letting in as much natural light as possible is the number one way to make any room in your home look larger, and small bathrooms are no exceptions. If your bathroom already has windows, consider leaving them unblocked so the room can benefit from the light. If privacy is an issue, consider using clear, frosted privacy window treatments instead of curtains or opaque treatments. 
Keep Colors Simple
Bright colors and busy patterns can be fun to look at in some cases but should be avoided when working with a cramped space. The combination of bright paint and patterns make a room feel busy, which, when paired with a small room size, leads to a design effect that can feel overwhelming. When possible, choose simple colors and try to keep the color uniform throughout your design choices.
Choose Light Colors
Another way to fill a room with light and promote the illusion of more space is to choose light, neutral colors for your design. This is especially crucial for your walls. Going all-white is always a good idea. The overall appeal is highly modern and works flawlessly with practically any fixture finish you might have your eye on. Using white throughout the bathroom (counters, cabinets, floors, walls, and decor) also helps to create a cohesive, seamless look that further contributes to a bigger-looking bathroom. If white isn't quite your style, consider using:
Pale blue

A subtle off-white

Light tan

Light gray
Generally, neutral or neutral-adjacent tones are the way to go. If you desire a pop of color in your bathroom, consider adding in accents such as colorful hand towels or other small details (without going overboard, of course).
Don't Forget the Ceiling
When painting your bathroom with your new, light colors, don't forget to paint the ceiling. Having your ceiling the same color as your walls creates an illusion of height, which further opens up space. In fact, going even a shade or two lighter for your ceiling paint isn't a bad idea. Ceilings tend to be darker than the rest of a room because of the way light flows through space, so choosing a lighter shade than your walls can help even out the appearance.
Get a Bigger Mirror
Not only do mirrors act as the focal point of any bathroom, but when used correctly, they can also be used to give the illusion of more space. This is because they reflect light, allowing you to brighten up the surrounding room easily and without investing the money in actually opening up the room. A large mirror in a small bathroom layout can make the room seem twice as large as it actually is.
Of course, not just any mirror will do for this upgrade. For the best effect, consider the following:
Using frameless mirrors further increases the illusion of more space

Heavier mirrors may need to be screwed directly into studs for extra support

Tarnish-resistant mirrors may be needed for small rooms that trap moisture
Choosing the right mirror for your bathroom is a must, but if your main goal is making space look larger, bigger is always better.
Plan Your Tile Work
Tile in bathrooms is an excellent idea for creating a modern, charming style but can be difficult to work within small spaces, particularly if they have bold, busy patterns. However, when handled correctly, this addition can also help a space look and feel larger. If you're installing tile, be sure to fit it all the way up to the ceiling to further contribute to that illusion of height. If your bathroom is only partially tiled, paint the un-tiled walls the same color as your tiles. This preserves the seamless, open look that you want for a project of this type while still allowing you to vary the texture in your bathroom.
Select Plain Flooring
The last thing you want to do is to draw attention to how little floor space your bathroom actually has. The best way to avoid doing this is to choose plainly colored, large floor tiles throughout the room. The larger the tile is, the less crowded your space will appear. Smaller tiles come with more dividing lines, which make the floor of the room appear busier and more cluttered, which is why they should ideally be avoided.
Remove Vanity Cabinets
Bathroom vanity cabinets are highly functional pieces of many bathrooms, but the truth is that they're also some of the biggest space wasters in small spaces. This is particularly true for small half bathrooms, where storage may not be quite as necessary. If you're truly strapped for space, consider removing your old vanity and replacing it with a pedestal sink or wall-mounted sink. This will result in a loss of counter space, and the floor beneath the vanity may need to be filled in, but it will hugely contribute to opening up space and making it look larger than ever before.
Limit Decorations
Go easy on the finishing touches if you want to avoid undoing all of your hard work. The decor is good, but in a small space, too many small pieces can quickly overwhelm a room. When you're choosing your decor pieces, make sure you're:
Choosing only one of each item

Ensuring each item serves a functional purpose

Not using too many contrasting colors
The smallest details can make all the difference when it comes to a design scheme, especially when the space in question is a small one. Decorate for functionality and let the beauty of your newly-designed room speak for itself.
Design Your Small Dream Bathroom
If you have a small bathroom in your home you're looking to overhaul, contact the professionals at Bath Crest Home Solutions to get you the airy, open feeling you've been looking for. These pros have the know-how, tools, and experience necessary to build a bathroom you'll love, no matter the size of the space or your budget. Whether your remodel includes a paint job, new tile, a new sink, vanity, countertop, shower, bath tub or more, they have your back with unbeatable customer services and the results you'd expect from a company that's been on the job for over 40 years.
—
Image Credit: Shutterstock/ Breadmaker