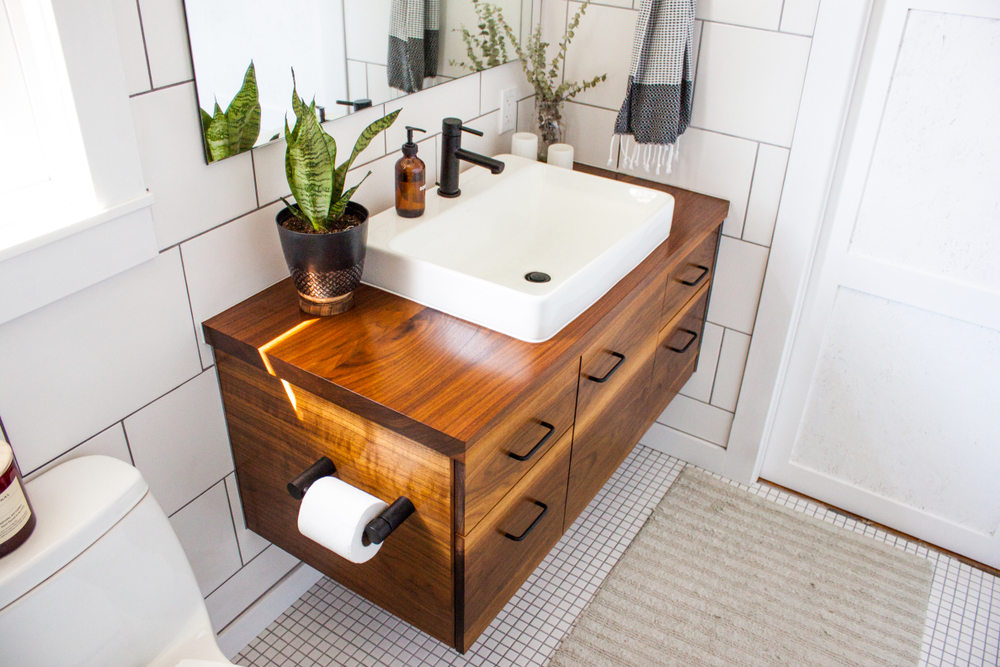 When you choose to upgrade your bathroom, your options are endless. From new floors to a whole new shower, there are dozens of renovations you can make that will completely transform the space and how you use it. However, if you really want the biggest boost to both your bathroom's appearance and function, investing in a new bathroom vanity is the way to go. When you choose this upgrade, you're investing in a practical addition to your bathroom that can either save floor space or offer more storage while giving the entire room the perfect aesthetic touch it deserves. However, in order to get the most out of this upgrade, you'll need to pick the right type of vanity for both your space and your needs. Explore the wide range of bathroom vanities available in order to get the best results from your bathroom renovation.
Pedestal Sink
Also commonly known as a freestanding sink, these vanities consist of a single sink, supported by a tall pillar. These types of vanities are ideal for anyone looking to save floor space during their renovation, making them excellent for bathroom spaces built on the small side. Though they have no built-in storage to speak of, these sinks are versatile, typically easy to care for and add a unique look that fits in perfectly with nearly any style.
Freestanding Sink
These vanities are much like pedestal sinks. They're a tall sink that isn't surrounded by countertops or cabinets. The chief difference between pedestal sinks and freestanding sinks is that the latter tends to have a less slender, delicate appearance, particularly around the supporting pillar. Often, freestanding sinks feature a square or box-like build, which both give them more presence and make it easier to incorporate multiple sinks into the same space. These also come in a wider variety of materials than the average pedestal sink, including popular options such as wood and even upscale granite.
Wall-Mounted Floating Vanities
One of the most popular bathroom vanity installation options on the market is the wall-mounted floating vanity. The main appeal of this type of vanity is the sheer amount of counter space it offers, without appearing bulky or taking up more floor space than absolutely necessary. On average, people spend around five hours per week performing grooming tasks, most of which take place at the bathroom mirror and vanity. This is precisely why having plenty of counter space is imperative for many homeowners across the country, and why floating vanities are often chosen over other options. These wall-mounted vanities provide that counter space but often come without the addition of cabinets. This means there is little in the way of included storage, but the open space under the counter leaves adequate room for other sources of storage such as bins, boxes, and smaller cabinets.
Under-Mounted Vanities
Another of the most common vanity types in modern homes, under-mounted vanities have sinks built directly into them. This flattens out the counter, giving you access to more counter space than many other options while creating a sleek, overall more modern appeal. Unlike wall-mounted floating vanities, under-mounted vanities always come with their own storage, making them great for keeping bathrooms organized. Because the sink is built directly into the vanity, however, the basin dips down and takes up space in the cabinets below. The basins take up space in the storage area, leaving you with less room to place bathroom items, a tradeoff for the enhanced counter space, and smooth appeal that under-mounted sinks provide.
Vessel Vanities
Vessel vanities have become more popular over the past few years thanks to the elegant, rustic look they contribute to bathroom spaces. These vanities feature a sink basin mounted above the countertop, giving you a full view of the bowl above the flat layer of the counter. Not only do these vanities offer a unique visual appeal, but they also provide more under-counter storage space since the basin doesn't dip down to take up cabinet space. However, the wide bowl designs take up more counter space than other designs, creating a trade-off between counter storage and cabinet storage, much like under-mounted vanities offer.
Vanity Cabinets
Vanity cabinets are the go-to for many new constructions simply because they're basic yet elegant. Their design appears much like an under-mounted vanity on the surface, but they feature a much more kitchen-like appeal when it comes to function. Vanity cabinets feature a large number of pull-out drawers and a simple, straightforward design. The simplicity of its design is what sets this style apart from the rest. Its basic features allow it to blend in seamlessly with any type of design you might have in mind for your bathroom and makes it the ideal option for those looking to create a classical or contemporary space.
Vanity Materials
No matter what style you choose, the materials you select for your custom bathroom vanities are the biggest determining factor in how your final results will look. Fortunately, when you work with a dedicated, experienced bathroom renovation team, you'll have access to a wide range of materials. Some of the options you'll have to choose from may include:
Manufactured marble

Porcelain 

Ceramic tile

Piedrafina

Granite

Quartz

Stone

Acrylic
Create a bright, playful look with patterned ceramic tile, keep things simple with pure white porcelain, or add a dash of elegance to your bathroom by installing granite countertops. While the countertops themselves act as a huge contribution to your bathroom's overall appeal, building your custom vanity doesn't stop there. You'll also need to select your cabinet material for some styles, which might include options such as:
Plywood

Particleboard

Laminate

Marble
Choosing your cabinet or pedestal material often relies heavily on your overall budget. Working closely with your selected bathroom renovation professionals can help you achieve the look you're dreaming of while getting products that fit both your budget and your bathroom space.
Vanity Shapes
Finally, you'll need to select what shape you want your bathroom vanity to be after choosing your style. For pedestal sinks, this typically isn't a big ordeal, though you will have a wide range of designs to choose from. If you're selecting any of the other styles, however, you'll have a wide range of sizes and shapes to choose from. Freestanding sinks typically offer square or rounded options, while the under-mounted, floating, vessel and cabinets come in square or rectangular designs. Finding the right fit for your bathroom depends on the size of the room and the layout of other appliances. Discuss choosing shapes with your renovation team to get the right fit for any room.
Find the Perfect Vanity
If you're ready to upgrade your bathroom vanity but need help designing and installing the perfect addition for your space, contact Bath Crest Home Solutions. With over 39 years of experience and a dedication to serving the Salt Lake City community with nothing but the best in quality and customer care, there's no better team to handle your bathroom upgrade, regardless of the design you have in mind.
—
Image Credit: Shutterstock/ Clara Doti