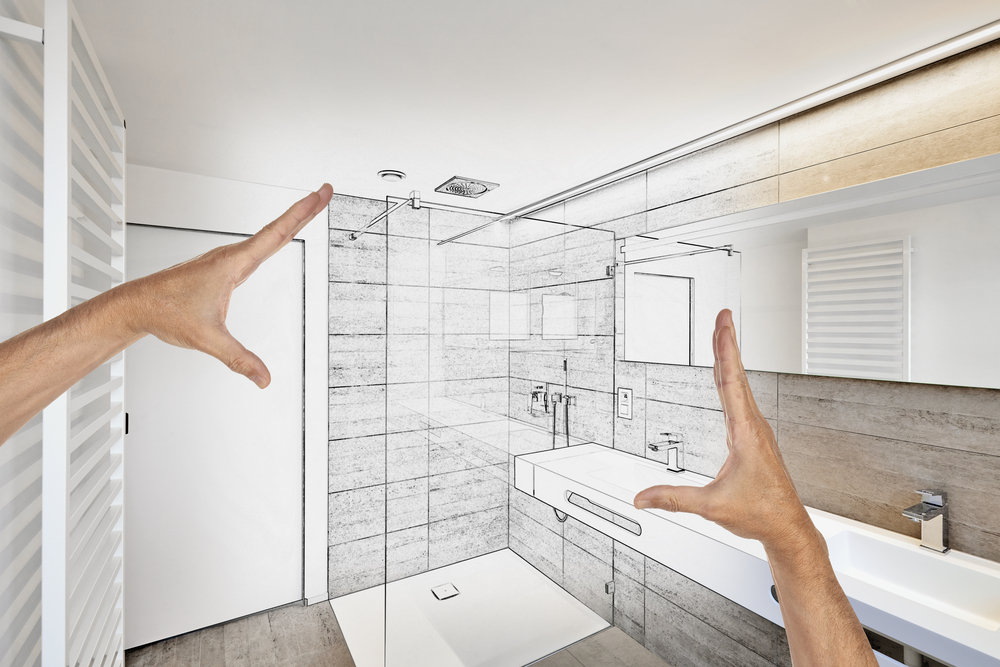 In this article, you will learn a few key pieces of information regarding how you can maximize your bathroom space during a full remodel, such as:
Replacing tubs with showers is a great way to get more bathroom space
Changing your layout can help you use space more efficiently
Adding more storage helps keep space clear and feeling larger
Between taking on daily hygiene, grooming, and seeing to your personal needs, you probably spend far more time in your bathroom than you might think. You spend hours in this part of your home throughout the week, so don't you deserve to spend that time in comfort? Unfortunately, many bathrooms were built with little more than functionality in mind, and while it's good to have a functional bathroom space, it's also important to have a space you feel comfortable in. Increasing the amount of space in your bathroom is the best way to get the comfort you want without sacrificing the functionality you've become accustomed to. During a remodel, there are several steps you can take to maximize the overall space in your bathroom, or at least make it feel more spacious even if you're not changing the actual floorplan. If you're looking for a larger bathroom, follow these bathroom remodeling tips straight from the pros at Bath Crest Home Solutions:
Remove Your Tub
A large garden tub with jets and other bells and whistles is certainly an eye-catcher when you enter a bathroom, but the truth is that many homeowners rarely use their tubs, no matter how nice they are. Not only is the luxury they provide taken for granted more often than not, but tubs also take up a huge amount of space and can make even spacious bathrooms feel a bit crowded at times.
If you have a large tub that you're not using, consider removing it from your bathroom during your renovations. Instead, replace it with a luxurious custom shower. You won't be losing any functionality by making the switch in most cases, and you'll gain a huge amount of floor space. This is an especially useful tip for small bathroom spaces and is common for many master bedrooms in modern homes.
Install a Corner Sink
If you're dealing with a small bathroom with a single sink, installing a corner sink is yet another great way to utilize your space and create just a little more clear floor space. In typical bathroom designs, corner spaces are rarely used and aren't typically large or open enough to accommodate additional storage either. Meanwhile, pedestal sinks are often bulky and create an obstacle in the room while taking up valuable floor space. Kill two birds with one stone during bathroom renovation by moving your sink to the corner of the room. This small change allows you to properly use that long-overlooked corner space and gives you a wider walkway, making your small bathroom look and feel larger.
Consider Floating Vanities
Vanity countertops have been a staple of luxurious bathroom spaces for decades. However, much like tubs, they are often under-used and take up a monumental amount of space. While there are certainly benefits to vanity counters in bathrooms, if more space is the name of the game, it's best to go with an alternative. Exchanging traditional vanity countertops for floating vanities is the way to go. Floating vanities feature the sophisticated countertop space you love in a bathroom but leave out the cabinetry beneath. This gives you the opportunity to use the space beneath the vanity for other purposes: storing bathroom seating, towel storage, a place to display your favorite decor, and more.
Change Up Your Layout
If you're going all-in and investing in whole bathroom remodeling anyways, it may be a good time to simply reformat your bathroom's layout all together. The truth is, sometimes bathrooms are merely designed in a way that doesn't maximize the given space, and that doesn't promote a smooth flow throughout the room in regards to the location of plumbing and appliances. If the layout is the core issue impacting your room's space, then no amount of shower upgrades, countertop changes, or repainting will fix the issue. Talk to a professional about how you can redesign your bathroom space to make it bigger and an all-around better experience for everyone who uses it to find a plan that works for your space and your budget.
Create the Illusion of More Space
There are plenty of ways to actually add space to your bathroom by removing unused plumbing appliances and rearranging the contents of the space, but these projects can often be expensive and time-consuming. If you don't want to go above and beyond the average cost of bathroom remodel projects, but you still want your bathroom to look and feel larger, don't worry – there are several small steps you can take to do just that.
Keep Colors Light
Light, neutral colors such as whites, light gray, tan, and light blue all help spaces feel more open and less cramped. Painting your walls a light color is a great place to start, but also try to keep your flooring, counters, and fixtures light in tone as well. Lighter colors won't actually make your bathroom larger, of course, but it creates an illusion of larger, more open space.
Use Large Mirrors
Installing a large mirror is another excellent way to make your bathroom look larger. This is especially great for master bedrooms, where you may previously have had multiple small mirrors situated above various sinks. Install a full mirror that stretches across the space. The reflection helps the room look larger, especially if the mirror in question doesn't fit with bulky frames. Installing a smooth, sleek, big mirror can completely transform a bathroom space.
Choose the Right Shower Doors
A shower curtain serves the purpose of helping you maintain privacy while you're showering, but it also creates a barrier in the room that can make the space seem notably smaller in many cases. By replacing your old shower curtain with a set of transparent glass shower doors, you're adding the area inside your shower to the overall visual space inside the room. Some bathrooms may even be redesigned to omit the presence of a shower door completely, which creates a much more open, larger feel in an otherwise cramped space.
Use Interesting Lighting Choices
No matter what sort of space you're working with, there's one rule that's a constant in interior design: a well-lit room feels much larger than a dimly lit one. That's why you should always ensure your bathroom is well lit. However, that doesn't mean just sticking to boring overhead lights. Consider installing skylights to let in natural light, or even install backlighting behind your mirrors. Additions like these not only serve the purpose of keeping your room bright and well-lit but are also interesting to look at and add character to the space.
Build Your Perfect Bathroom Today
Contact Bath Crest Home Solutions today if you're ready to update your outdated, small bathroom into its biggest, best self. We're here to guide you through the process from beginning to end and have the experience needed to get you the best bathroom possible while maximizing your space and sticking to your budget. Whether you're looking for a few small upgrades or a whole reworking of your bathroom space, we're here to make sure the job gets done right.