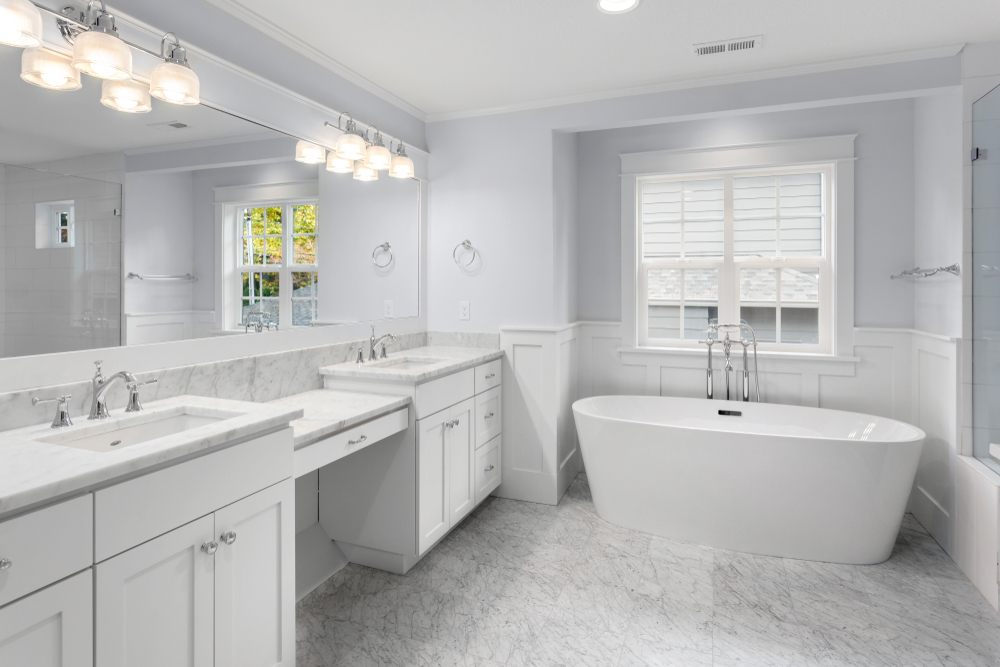 Upgrading your bathroom's shower is a surefire way to make the entire space look and feel brand new – particularly if you find yourself dealing with a small bathroom. However, many homeowners who have limited experience in interior design report that they feel "stuck." There are simply too many options, and they don't know where to begin, or they can't find the right look for their budget, personal style, and limited space. Going on the hunt for shower remodeling inspiration is one great way to remedy this issue and help you design the shower (and bathroom) of your dreams. Take a look at these unique and innovative ideas to better understand how you might work with the pros to upgrade and update your home's bathroom.
5 Great Ways to Spruce Up Your Shower
While the list of ways to upgrade your shower is nearly endless, some stand above the rest in terms of unique visual appeal. Though style changes year after year, these are a few that have stood the test of time or that prove to be the up-and-coming favorite of bathroom design. Work with a team of professional designers to learn more about each style and how it will fit in with your overall design scheme.
Eliminate Barriers
It's never too early to begin thinking about your future, and easy-access showers are an excellent place to start. Sill-less showers offer a seamless transition from flooring to shower, drastically reducing the chances of slipping and falling in a bathroom. These designs are great options for anyone with impaired mobility or those who may face it in the future, and pairing them with grab bars is an excellent way to promote safety in the home. These designs work by utilizing a slightly sloped floor that keeps water inside the shower area without an actual barrier to hold it back. This is paired with drains to ensure water doesn't flow where it's not wanted.
Additionally, these showers strike the ideal balance between form and function. Sill-less showers make rooms look bigger by removing barriers that would otherwise divide an already small space into even smaller sections. The design is also easy to pair with other upgrades, such as frosted glass panes for privacy, waterfall showerheads, recessed nooks, and much more. Whether you're looking for an ultra-modern bathroom upgrade or prefer antique farmhouse chic, these simple shower designs will work wonders for your newly upgraded space. Additionally, if you have a small bathroom but are dreaming of a walk-in shower, the team at Bath Crest can create stunning corner showers–check out this one we did for our client, Teresa S.
Ditch the Doors
Yet another way to open up your bathroom is to implement doorless showers. Unlike sill-less showers, these may have some low barriers to keep water inside the shower, but they still eliminate the visual barrier of a door or curtain. Typically, a glass panel is used to enclose the shower or a pair of waist-high concrete walls that surround the entryway. These unique enclosures offer an eye-catching and beautiful alternative to classic shower doors and work well with practically any bathroom setup because they help save space.
Build a Sauna at Home
Who says you can't enjoy the ultimate luxury in the comfort of your own home? Sauna-style steam showers have quickly become one of the most popular shower remodeling ideas for modern homes. Better yet, building one of these high-end showers in your home is much easier than it seems. Replace your small shower head with a taller steam shower head, and then install a bench to lounge on while you enjoy your in-home sauna experience. Use a folding bench for more versatility. Additionally, use a combination of warm, natural wood materials and light neutral paint tones to complete the look for this one-of-a-kind shower renovation.
Go Industrial
Are you looking for something more on the chic, modern side? Then an industrial shower design might be the right fit for your dream bathroom. The base of this style relies on clean, straight lines and dark metallic tones. Then, nuts and bolts are used throughout the design and emphasized on fixtures and other details to really make them pop. The result is a modern, masculine look that's perfect for making a real statement.
Celebrate Simplicity
Though there are perhaps hundreds of unique shower replacement options on the current market, minimalistic designs continue to be a favorite year after year – and for a good reason! Bright, minimalistic designs have a way of bringing out the best in bathrooms, both big and small. Typically, these designs reduce or eliminate unnecessary clutter altogether while adding in luxurious touches via the materials used and bright, light neutral tones like white, light grey, light beige, and sometimes light blue. These colors create the illusion of space, making rooms look larger than they actually are. This is great for small bathrooms because it allows you to visually expand your space without paying for a whole bathroom overhaul. Furthermore, the use of smaller fixtures allows you to physically save more space as well.
To Tub or Not to Tub?
Recently, homeowners have been using renovation and shower replacement as an excuse to get rid of their bathroom tub altogether. Why? While there are a number of reasons to keep a tub (such as being able to bathe children, mainly), most homeowners find that it offers far more benefits to ditch it. Some of these include:
Less wasted space in already cramped spaces
Tubs rarely get used
More space for a luxury shower or other features
By getting rid of your tub, you can maximize the square footage of your bathroom and give yourself more room to build a bathroom you'll love. So, should you replace your tub with a shower completely? In most cases, it seems like this is the way to go. However, it's always a good idea to have a word with the pros about the cost and viability of these plans before planning to cut it out entirely.
Budgeting for a Shower Remodel
So, how much does it cost to remodel or replace an existing shower? As you might expect, there's no concrete, solid answer for this question simply because it depends on a wide range of variables. What materials will you be using? What style are you aiming for, and what sort of fixtures will be required? Will you be removing a tub or rearranging other parts of your bathroom during the project? Each of these details increases or decreases the price of your project. It's estimated that a shower remodel or replacement could cost anywhere from $450 to $4,200, depending on how much work needs to be done.
Working with a professional bathroom design expert is crucial for building a bathroom that meets your stylistic preferences and budget. Design experts can help you choose less expensive materials that give a space the same appeal or suggest alterations to your plan that allow you to get a bathroom you truly love without having to empty your savings account in the process. Having this information up front will help you better budget for your new shower in the long run, so you aren't caught off guard when the project is complete.
Upgrade Your Shower Today
If you're tired of your outdated shower and you're ready for a change, then Bath Crest Home Solutions is here to help. Contact us today to learn how we can help transform your shower into something modern, accessible, forward-thinking, and affordable. With decades of experience in renovation and design, we have everything needed to make your dream shower into reality.