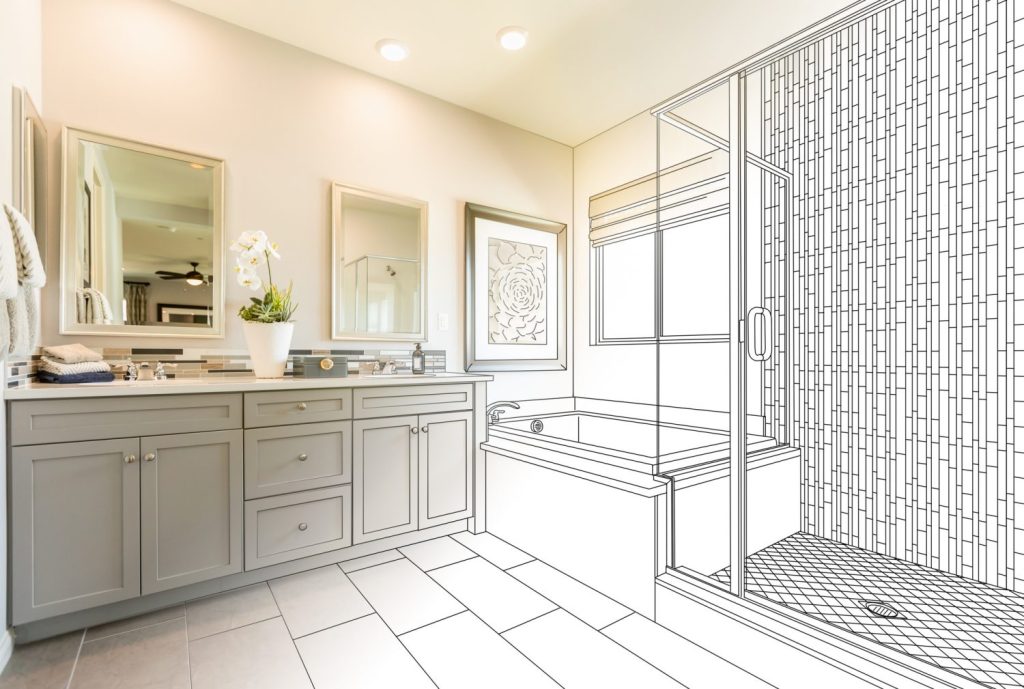 It's the beginning of a new decade, which means it's time for a new you – and a new house renovation or two. This year, take the time to update your home so it can live up to its full potential in every single way. Thanks to their typically manageable sizes and the plethora of design options available, bathrooms are often the easiest and most effective places to start bringing your home into the new decade. Check out these five up-to-date bathroom remodeling trends that can easily be used to transform even the smallest, dingiest bathroom in your home:
1. Open Showers
The best way to make a small, cramped bathroom look bigger and bolder is adding open elements, especially when it comes to the shower. Most outdated homes come with a shower attached to an alcove tub as a means of providing homeowners with as much function as possible. Still, this appliance takes up a whopping 13-15 square feet of bathroom space, which can be a serious design disaster for bathrooms already struggling with space issues. Investing in a little open shower replacement helps you free up nearly half of that space in many cases, allowing you more design freedom and more elbow room in the future.
2. Go the Extra Mile on Fittings
As is the case with nearly everything in the design world, the devil is in the details when you're remodeling a bathroom. Outdated or worn-out fixtures can make or break your bathroom, so exchanging them for something more updated and in line with modern trends should be one of your first steps. However, keep in mind that, though it reigned supreme for nearly 20 years, chrome is out in 2021 and 2022 thanks to people taking the opportunity to customize their space rather than simply accepting the status quo. Instead, consider using:
Brushed or shined copper
Matte black
Gold
Shined brass
Each of these finishes is designed to stand out to make a statement or blend in with your existing décor as you see fit.
3. Integrate a Little Tech
You're living in a world filled with cutting-edge technology, so there's no excuse for your bathroom to be behind the times. Integrating some simple technology into your bathroom gives it that perfect touch of luxury you want in your space. However, you don't need to invest in that $7,000 toilet to make that luxury happen. Options like shower lighting, wireless Bluetooth speakers are fairly inexpensive and can completely transform a space.
4. Use Some Natural Touches
Don't neglect the natural design elements when redesigning your bathroom. Materials such as natural wood or smooth stone used throughout the design scheme keep bathrooms looking fresh and airy, while elements like potted plants throughout the space add a vibrant splash of color to rooms that are often kept very neutral. If you have the resources and access to do so, consider using elements such as reclaimed barn wood for décor, or perhaps repurposed, upcycled materials for plant pots to up your remodel's environmental friendliness. This is one of the hottest bathroom remodeling trends of the year!
5. Use Solid Surface For a Modern Look
Providing both durability and beautiful appearance, a solid surface offers a great option to refresh your bathroom. A solid-surface provides several options for you, coming on a vast range of colors and finishes. There is something for every bathroom design, for every color, and for every style. You are finally going to be able to make your vision a reality by customizing the look of your bathroom, giving it the sophisticated and seamless look that really sets it apart from the rest.
Get Your Renovation Underway If this list of trends has sparked some design inspiration in you, don't wait. Contact Bath Crest Home Solutions to get started on your full bathroom remodel right away, get the answers to all of your pre-renovation questions and work with the professionals who can handle any design your brain dreams up with confidence and ease.